RESCUE MISSIONS FOURSQUARE CHURCH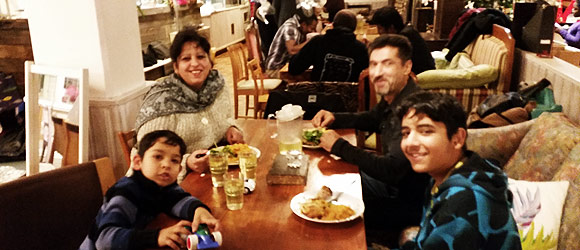 A CHRISTIAN , BORN AGAIN, CHURCH.

JOIN OUR SERVICE IN ENGLISH EVERY SUNDAY AT 12.00-14.00 HOURS IN THE CAFE OF RESCUE MISSION SECOND HAND

RESCUE MISSION CHURCH IS A* FOUR SQUARE CHURCH*

FOUR SQUARE IS AN INTERNATIONAL PENTECOSTAL CHURCH, WITH ESTABLISHMENTS IN ALMOST EVERY COUNTRY IN THE WORLD . (for more info about FOUR SQUARE look at their webside).

We are a Christian ministry, reaching out in three main ways:
1. Rescue Mission Church. 2. Rescue Mission Second Hand. 3. Rescue Mission Social work.

Our church is a lively, international community of believers, from many different nations and denominational backgrounds.

We believe that a family construction can bring restoration to the lonely individual and together as a church family we reach out to people by showing them the Father Heart of God.

Jeremiah29:11 says, I know the plans I have for you, says the Lord. Plans to prosper you and not to harm you, plans to give you hope and a future ( NIV).

We believe therefore that God has a plan for every man and woman and that He believes in their potential.

We believe that the only way to come to know God is through accepting Jesus Christ as your Lord and saviour, becoming *Born again*.

As Jesus says, I am the Way, the Truth and the Life. No one can come to the Father except through me (John 14:6 NIV)

The way we run the church gives space for each individual to use and develop their gifts as part of the body of Christ. It also opens space to those with a calling upon their lives. There are plenty of opportunities to train or be trained in all areas of ministry.

Our Sunday Service is from 12.00-14.00 h. followed by a time of lovely food and fellowship.

We meet in the caf\'e9 of Rescue Mission Second Hand and generally give our Sunday meetings a structure of:

Opening the Meeting in Prayer
Worship in Song and Music
Time for Testimonies
Time of Offering
The Lord's Supper (Once a month)
Preaching ( Children have Sunday school)
Fellowship over a meal

A new developement in Rescue Mission Sweden (Four Square Sweden) is a fantastic outreach program called *Serve The City* Or in swedish *Tjäna Stan*.

Anybody who has a heart to serve his fellow man can be part of STC. In STC we try to show \rdblquote WHO\rdblquote God is, instead of talking about God. We believe that our Actions speak louder than our Words.

What do we do??

Something we did is: We collected presents on the Christmas fare in november 2013 in M\'f6lnlycke. We got hundreds of presents from people who just wanted to do a good thing for people who don\rquote t have.

All these presents were later in december given to children of asylium-seekers. And in the month of december 2013 we also filled banana-boxes with food that we afterwards distributed among homeless people.

We did this by standing infront of Ica Maxi supermarkt with shopping-lists that we handed out to people who went into the shop to do some shopping. We told them what the purpose was and the reactions were fantastic.We got many boxes filled and numerous homeless people got a big suprise.

Anybody can join STC, you don\rquote t need to be a christian or even a believer. Those who are believers shall be a testimony of who Jesus Christ is , for we are made in His image.

Mike and Brona van Weiden are the founders and pastors of Rescue Mission Ministries in Sweden. They served and recieved their training in Victory Outreach Ministries in Dublin , Ireland. A ministry with its roots in outreach to the gangs of Los Angeles, CA in the USA.